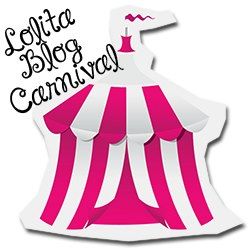 I recently joined Lolita Blog Carnival, a fb group for lolita bloggers (No way Sherlock!), and in their own words: "What we do here is simple: We decide on a topic, set a date, and then we all make a blog post about that topic on that date." Pretty simple and fun, isn't it? I'm quite happy to join it because I never know what to post on my blog and I want to make it more Lolita related.
This week's topic is "1 piece, 4 seasons." I will cheat on this one for two reasons:
1.

 

I don't want to use Polyvore with pieces I just find around there, for me it's more fun if I use my own wardrobe and I'm actually wearing the outfits… which leads me to the second reason.

2.

   

Right now I'm outside Serbia (Finland yay!) so, I'm far from my Lolita wardrobe.
What I'm going to do is to post pictures with outfits I used during those seasons ;3 There is only one piece of which I have pictures of all seasons (Good, I can include a story as well), it is this Bodyline skirt: