Recientemente me uní al grupo de Rosas de Azúcar, un grupo para blogs lolita en español y en donde se realizarán actividades para postear en el blog.

La primera es sobre nuestro primer outfit.
Recently I joined the group Rosas de Azúcar (Sugar Roses), a group for Lolita blogs in Spanish and where different activities will be made to post in the blog. The first one is about our first outfit.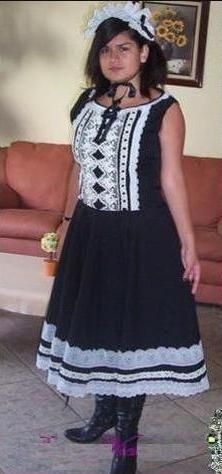 Mi primer coord es del 2006. Es completamente ita, la tela super fea y rasposa, el encaje de abajo no tiene perdón, no da ninguna forma al cuerpo, ese headress hace llorar de lo horrible que está. En fin, toda una joya haha además de eso, las botas… aunque, creo que nunca he cambiado en mi incorrecta elección de calzado >_>
Lo conseguí cuando lo mandé a hacer con el amigo de mi madre. Y ella lo pagó, no me siento orgullosa de eso).
Y en sí, la foto no evoca nada, creo que me da risa porque me recuerda lo desesperada que soy. Quería vestir lolita a la de ya y no me preocupé por informarme como debía.
Una pequeña historia es que esta foto terminó en lolita fucks, un grupo de LJ que se dedicaba a insultar a las itas, y si bien se sintió feo, fue lo que me hizo ver que estaba haciendolo mal y pude mejorar gracias a eso.
My first coord is from 2006. It's 100% ita, the fabric was ugly and scratchy, the bottom lace is unforgivable, it doesn't give any shape to the body, that headdress is so horrible it makes you cry. In short, a jewel haha and as the dress itself wasn't enough, those boots… although, I think I haven't change in my bad taste for shoes >_>
I got this beauty when I told one of my mother's friend to make it. She paid for it, and I'm not proud of it.
And the picture itself doesn't really evoke anything; I think it makes me laugh because it reminds me how desperate I am. I wanted to wear Lolita in that second and I didn't care about informing myself as I should.
A little story is that this pictures ended up in Lolita Fucks, a group of LJ which used to
insult itas, and yeah, it felt bad, but it helped me to realize that I was doing it wrong, and I was able to get better because of that.
Hay más chicas que han hecho esta actividad, si tienen curiosidad, pueden ver aquí algunas entradas más:
1
2
3