As I said in my last entry, he came to visit me from Finland, we spent two nice weeks and Croatia and Slovenia were the next places to visit. I really wanted him to go to Plitvice, the national park in Croatia so, the trip was tiring, all night long from Belgrade to Zagreb and then 2 hours and a half to Plitvice.
I won't put pictures of the park, but if you're curious you can check this post I made in my LJ from the first time I went. It's incredibly beautiful, and something that everyone should see before dying haha
We were walking all around, the place was full of tourists and the weather was super hot. We had to apply sun block million of times hahaha
During the trip we were playing a game to make everything more interesting. Basically was: one point for recognizing the language that a person was talking (Aside from English), another point if you could translate it, and another point if you talked to them in their language. I was forgetting the game all the time and I lost haha
Also, the place was so beautiful that we were imagining an evil plan to get into the water and make it look like an accident, because, who wouldn't want to swim in such an awesome place?
The ticket included a boat trip, but you cannot imagine how long that line was. Madness! And they were waiting in the sun for hours! No thanks, we preferred to walk. By the time we had to return I couldn't feel my feet anymore, but it was all worth it. I really love this place and I hope I can go someday during winter. I'm sure it's beautiful when it's all white and freeze.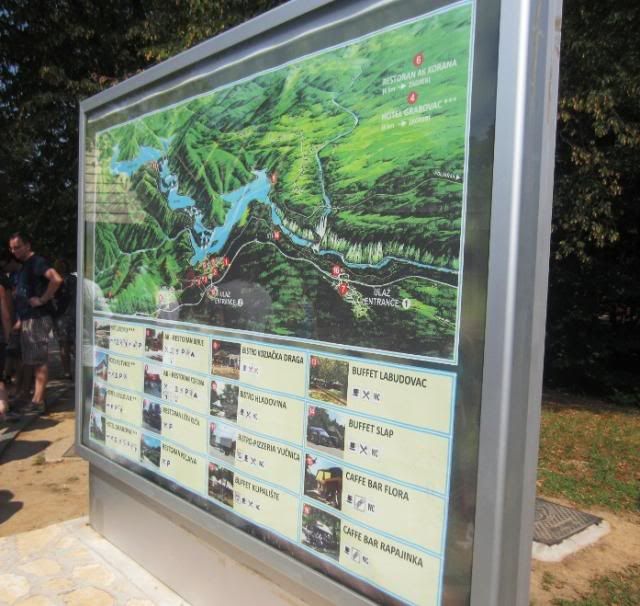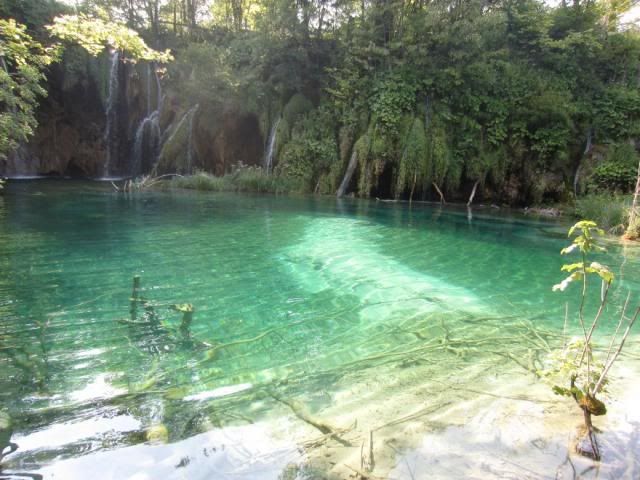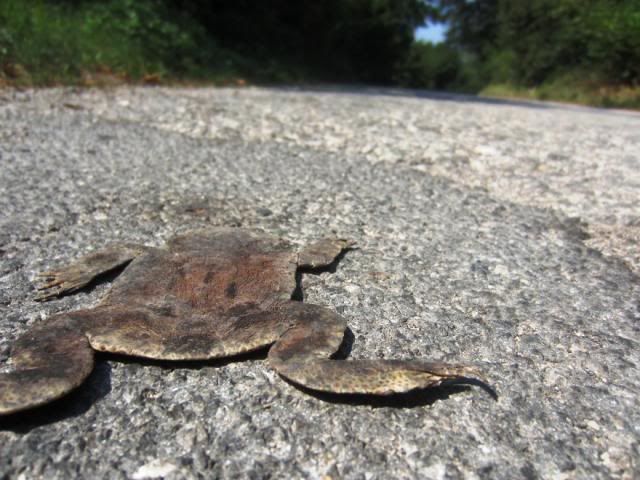 A frog... I thought it was fun.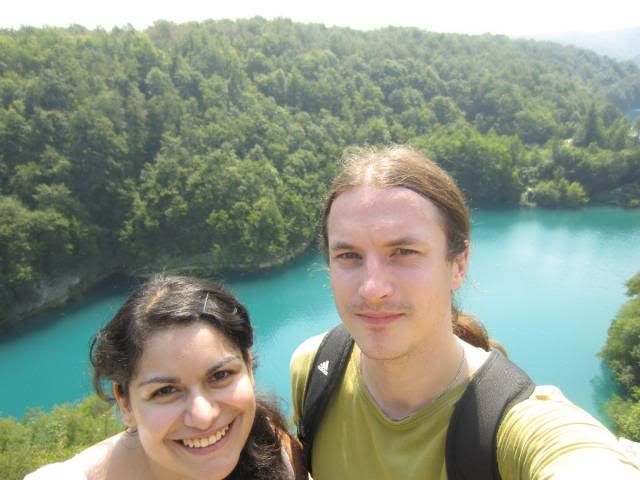 This picture shows pretty well how is our "relationship" haha
We were back in Zagreb at night, it was dark and we had no idea where the hostel was… my fault =_= we asked and we arrived by miracle after walking a lot. I have no idea how I managed to walk all that, I was dying!
We both are messy as hell!
In the first day we went to the zoo. It was quite nice, they had a lot of snakes *-*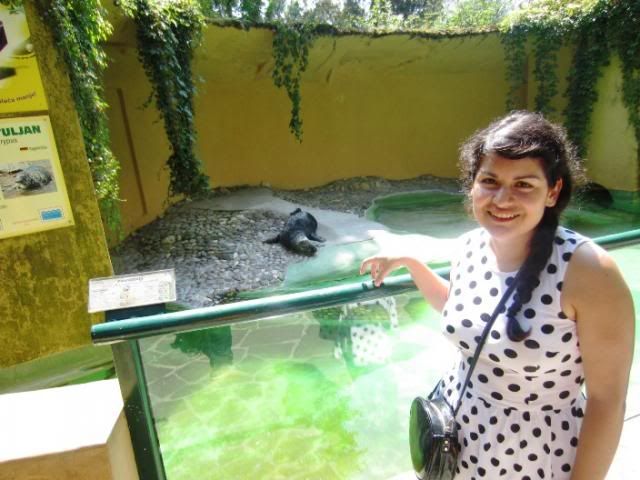 Eevee, I choose you!
We were just walking for the rest of the day around the city. Just talking, relaxing, and drinking something.
In Zagreb there is this sculpture of the sun, and around the city are the planets. It's a scale model of the solar system. We wanted to go to chase the planets, but we forgot it at the last minute haha and for me that's ok, Pluto is something like 7km away.
Next day was more of the same, going out and walking. We found this lovely place where they sell cakes and sweet drinks. I wanted really bad a hot chocolate, and I must say, this is the best damn hot chocolate that I have ever tried, it wasn't super sweet, and the chocolate was delicious. So bad I couldn't try the cakes, but next time I'll do it for sure!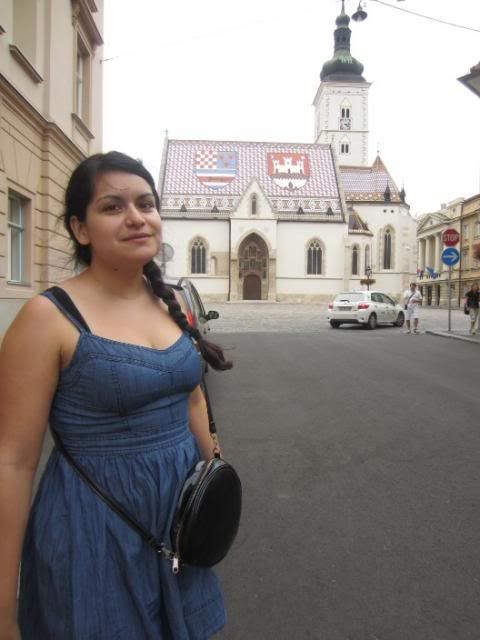 I look so bad haha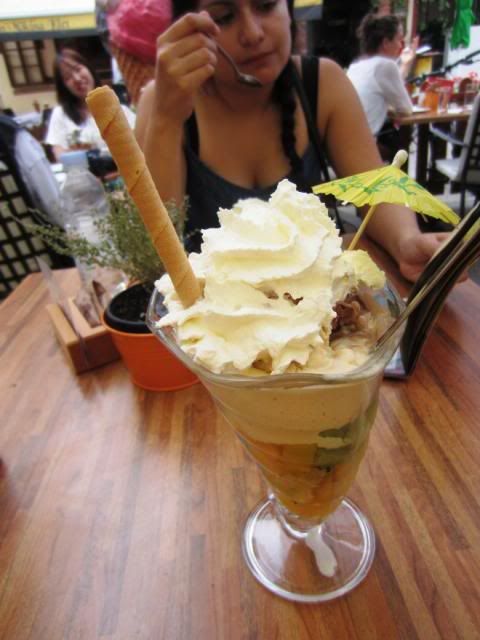 Glory!
And the place was cute.
Free water cash water.
At the end of the day I was super tired, and next day we had to get up super early because the train to Slovenia departed at 6:45 am. Ljubljana is almost 3 hours away from Zagreb so, we arrived early.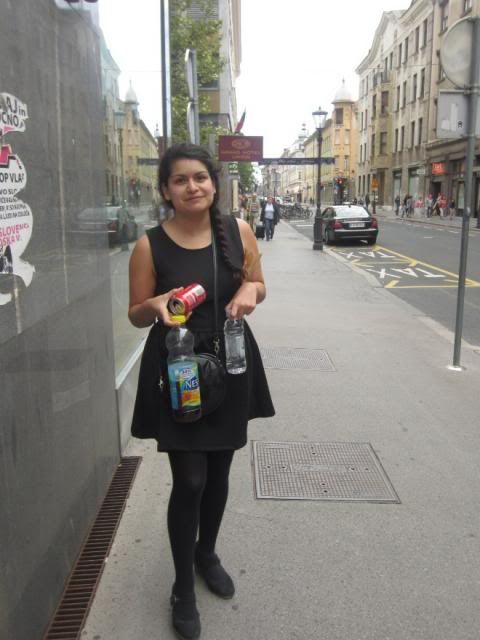 Thirsty =P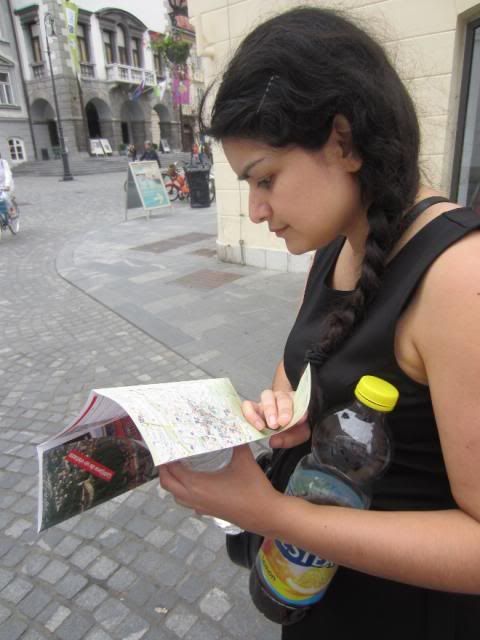 Lost, as usual, At least he knows how to read a map haha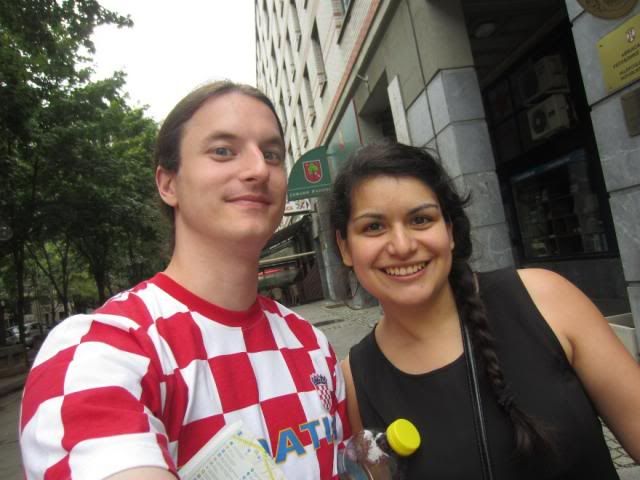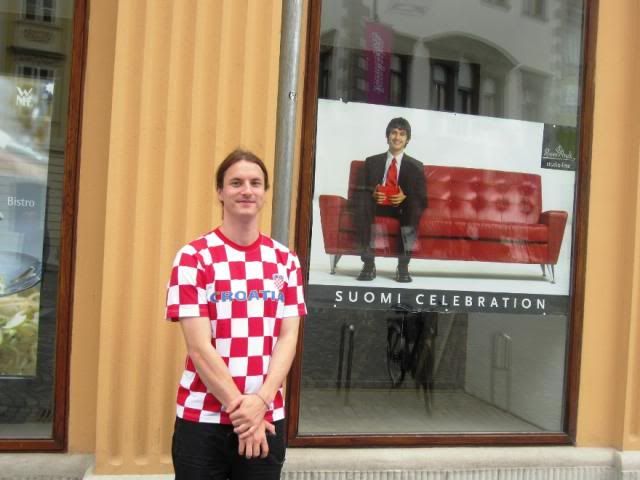 Suomi is Finland, yeah, I guess.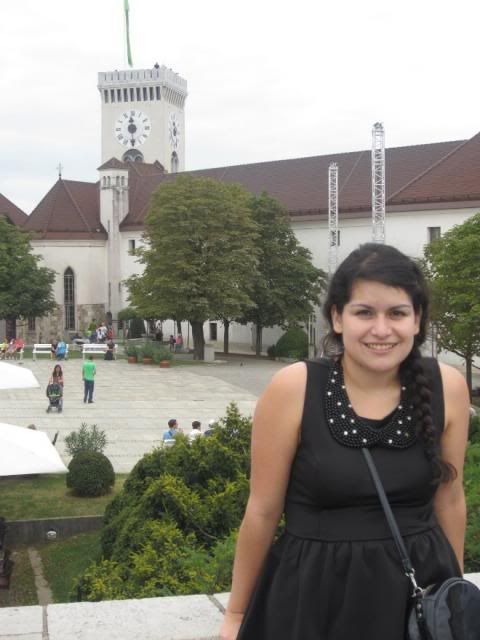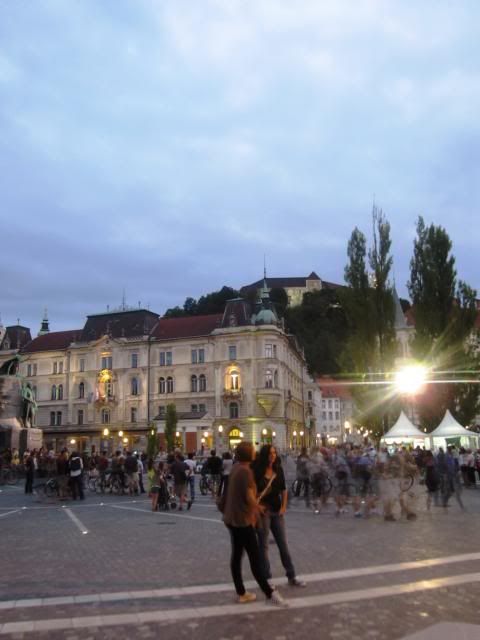 It was just a one day trip because we were going back to Belgrade at 9 or something like that. Anyway, this rip had 3 "interesting stories".
Ne razumem hrvatski (I don't understand Croatian)
We went to eat to a restaurant with traditional Slovenian food. The waiter was speaking us really fast in Slovenian. Some words are the same or similar, and I could understand a lot of things in signs, but it's completely different when they talk. It's impossible to understand anything, especially with my level of Serbian. We started to talk to her in English and suddenly she said: Ne,ne, ne razumem hrvatski (No, no, I don't understand Croatian). I blame that Croatian shirt he was wearing =P
Yeah, that was my face when the waiter said that.

So, we were in the park just walking around when suddenly he recognized something. Yes, it was his language, a group of Finnish guys were in the park drinking and drunk. Everything looked normal when suddenly I looked and found this.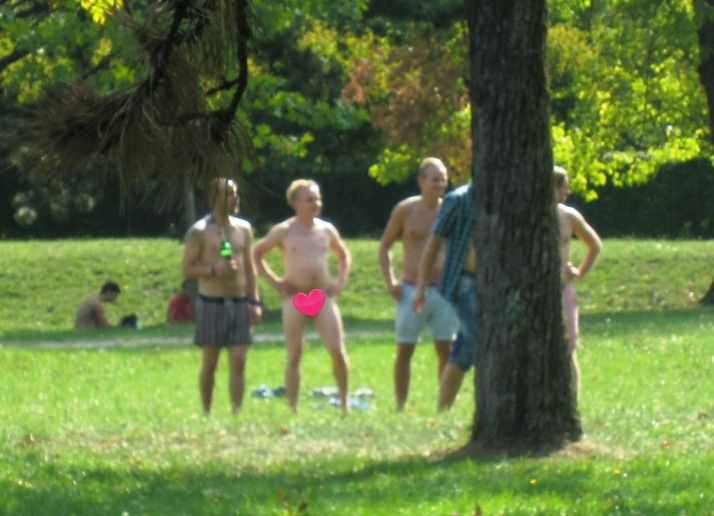 I censored because… well, I don't know, I just did it. But it was pretty hilarious. Usually Finnish people are shy and quiet, but when they drink, no one can stop them.
Tourist! They must be rich as fuck.
Finally we went to drink something. Before that I found a place to buy macarons. I must say that those things are awesome. The ones I tried in Mexico weren't that good, I was happily surprised. I wanted another hot chocolate but they didn't have. The waiter recommended me to take cold coffee instead and since I like it, I ordered it. When they brought it to me, it was a small glass with half coffee and half whipped cream. I was so disappointed, and thought that for a couple of euros it wasn't that bad. When I checked the price I saw that it was 6 fucking euros! I was so mad, we were bitching about it during a long time. Then the waiter got mad because of that and was ignoring me, like, I was giving him the fucking money and he pretended not to see me. I was super close to get away without paying, but my principles are strong. Damn ._. At the end I was just like: Que te folle un pez (Be fucked by a fish).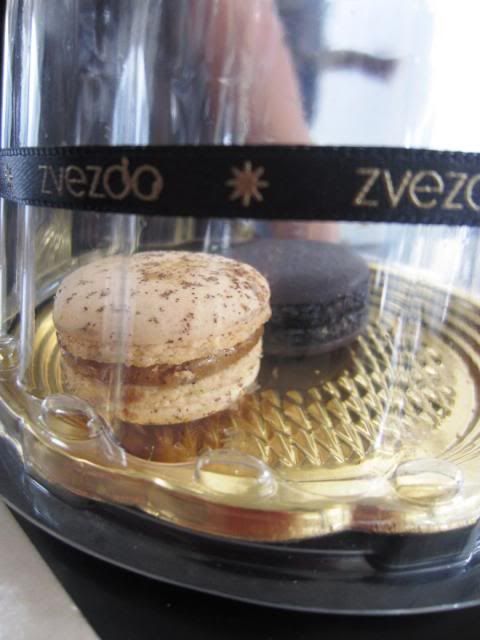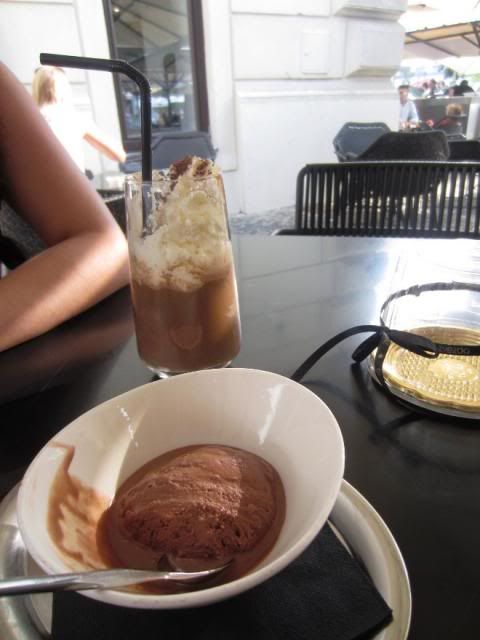 After that we went to sit beside the river just to wait for the bus to Belgrade. We got there the next day in the morning and at 1 pm we were in the airport. I was so sad when I saw him going, but didn't cry since I knew I was going to be with him in 3 days.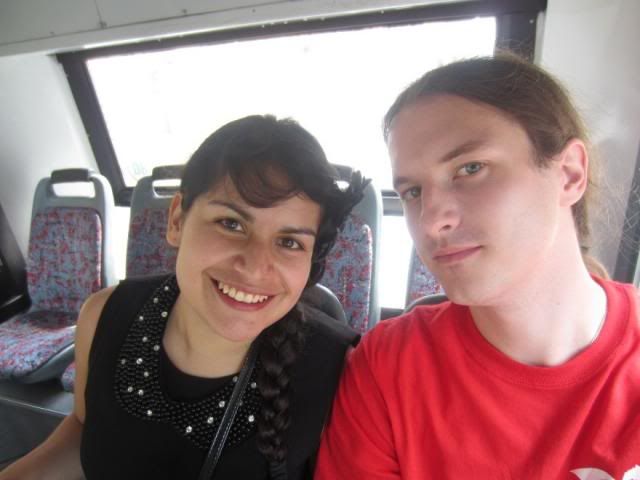 If you are curious about the pictures of the city, you can check my two entries about my first time in Zagreb and Ljubljana.
Ljubljana
And remember, Jesus loves, especially you.