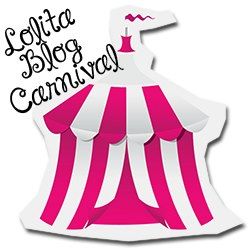 I haven't uploaded my blog in a long time because... well, I'm quite lazy. Anyway, today I will post the picture that made me fall in love with lolita. I saw other pictures before but this one was the one that made me decide to start with the fashion.
From the Gothic & Lolita Bible Volume 6. I saw it around march of 2006 and I liked it so much that my first JSK was horribly based on this one.
You can see my disaster here.
At that moment I wanted to be gothic and wasn't interested in the other styles. I loved the simplicity of the dress and the contrast of black x white, which is something I don't particulary like nowadays. I also was madly in love with headresses, and the one in the picture looked just perfect.
You can check other girls' entries here:
Lolita Glamour
Under the Parasol
Classical Doll
Lace a la mode
The literary Lolita
A Heart's Sound